How to apply to work with us
The recruiting process is our priority. This is how you apply to work with us.
Interested in working with us? This is how to apply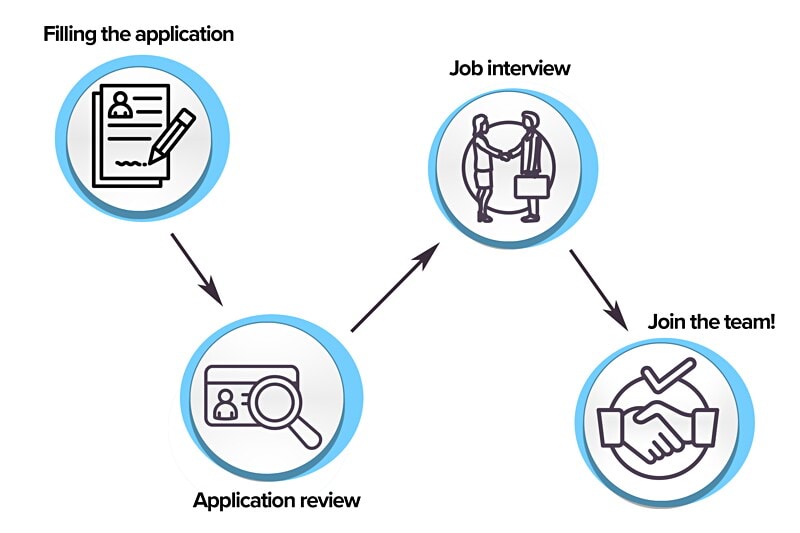 How we recruit:
How to apply?
You can submit your application and CV for the open positions through the job portal.
How the recruiting process will go down?
When you submit your application, it will be stored in our recruitment system. We are constantly reviewing applications and we go through them as we receive them, so don't hesitate to apply right away as we fill the positions as soon as we find the perfect match! We will inform you how the recruiting process is going as soon as possible, and we promise that you'll hear from us in two weeks at the latest.
If both ours and yours needs meet, you will be invited to an interview.
Normally, there are two rounds of interviews as we want to get to know you as well as possible and to make sure that both you and we are making the right decision. This also means that you are able to meet and get to know us and your future coworkers, and we get a better idea of you as a team member.
The first round of interviews is done by our recruiter Emilia and the hiring manager. In the discussion we want to get to know who you are and what kind of skills you would bring with you.
The second round is a chat with our CEO Jarkko, for you to get to know each other and have a final discussion about the expectations, and wishes you have for the job, and about the management and team.
Want to work with us but we don't have a suitable position open for you?
Connect with us and we'll be in touch in case we need your expertise!
You can also follow us on Facebook, Instagram and LinkedIn to be the first one to find out about new open positions!
Any questions?
Contact our recruiter Emilia via email emilia.ruohonen@lvsbrokers.com or by phone.