​Mika Hynnä worked his way from Windows 95 to AI in FinTech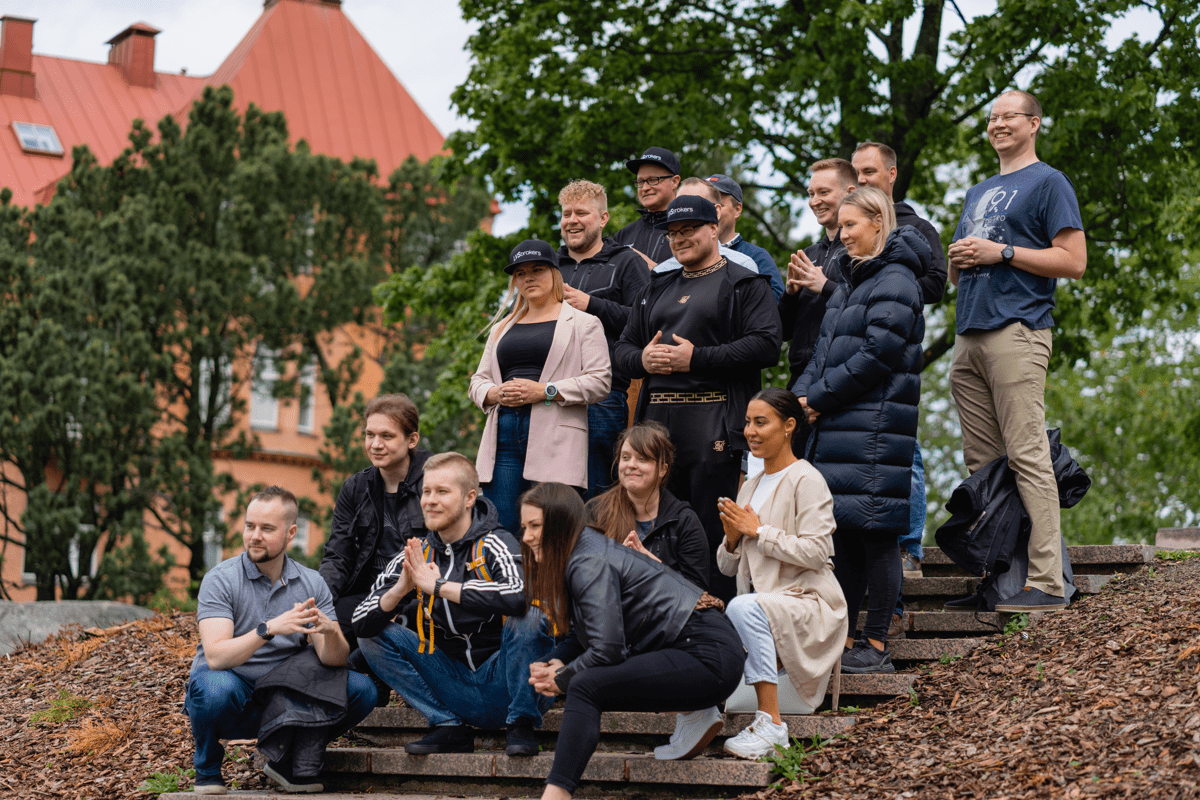 Mika standing in the upper right corner.
As a child in the countryside, Mika Hynnä used to play a lot with Legos - until he found computers. - Ever since I had my first contact with the computer, there has been no going back. The internet didn't really exist at the time, so I was tinkering with my Windows 95.
Through Visual Basic Mika gradually started to climb up. Step by step he made progress in his hobby, and there were small communities here and there. Mika's oldest programming contacts were through ICQ. The downside was that whenever he had to reinstall Windows, the contacts were lost because no-one remembered the usernames.
A dream of working in IT, not studying it
At school, Mika was actively involved in IT activities. Early computer enthusiasts stood out and often dreamed of making a career out of their beloved hobby.
I went to the University of Applied Sciences in Pori, but it didn't work out. After that, I went to Kajaani to play a game programmer, which went nicely until I had to do more basic studies. So I never got a higher degree than my high school diploma.
Mika worked nights distributing magazines for over a year. An online acquaintance asked if there was any qualified programmer who would be interested to be his colleague at SLM Finland Oy in Kerava, responsible for e.g. Pizza-online. After a few months Mika agreed to do an interview and got the job. Mika worked there for about seven and a half years until they decided to stop IT operations in Finland. Mika set out in search of a new pastime.
A nice, no-nonsense company in Turku
Mika and his girlfriend had moved to Turku and decided to build a house. He was looking for a job that didn't require moving. However, location wasn't the main attraction of LVS Brokers.
Already in the job interview I got the feeling that they are trying to be a nice company. Things get done, but there is no insurmountable attempt to frustrate jobseekers with bureaucracy. At the time, for example, there were no proficiency tests here, just a couple of interviews.
Artificial intelligence had become popular and Mika wanted to see if it can actually be put into practice to solve real world problems. Although he says he usually plays it safe, Mika learns new things quickly and wanted to try something new. In his previous job he had implemented a lot of payment interfaces, so the fintech side was not completely new. Quick tip companies did not interest him so he was glad to learn that LVS Brokers tenders for real loans.
Ample opportunities to learn new things
Mika jokingly calls himself a caretaker as he often seems to end up working on this and that. He is currently building a completely new bidding service and wishes he could concentrate solely on that, but he also does maintenance and development for LVS Brokers' currently best-known brand.
There are occasional inquiries and review requests for certain applications and application processes that need to be looked at. We are still developing an automated system for this.
On the bright side, working on various projects gives ample opportunities for learning.
Perhaps the most significant milestone in an application developer's career is when you realize that you don't really know how to program anything at all. The premise is that every day there is an opportunity to learn something new and here it holds true. This year I've already had the opportunity to work with two frameworks foreign to me. Only through work can you really outline what challenges and opportunities there are in the processes.
Coworkers help each other
Mika works both with LVS' Brokers own platform and the banks. His job is to enable the resale of customer banks' products to the largest possible base of end-users. Mika has been a developer in the entire pipeline from the handshake to the offering the end-users eventually see. The goal is for the whole process to be as seamless as possible for all parties: for LVS Brokers to see what happens, how it happens and where it happens, for the direct customer to see the system working as intended and for the end user to have a smooth user experience. This is true with the current platform but there is now that new platform on the way that Mika is brainstorming with the tech team.
I am glad that there are other people here with whom you can consider solutions. Even if you are the best possible pioneering architect yourself, you still have to ask someone if your solutions make any sense.
Mika values his coworkers and the ability to get sensible answers from them, as well as being able to give his time to help others. The working hours are flexible as long as you are present at meetings, on site or online.
The work culture is very pleasant and relaxed. We have found common hobbies - even new ones - that have united us as a group.